The problem faced by people who don't exercise regularly is often the lack of motivation to work out. After spending the whole day on work and studies, exercise tends to be the last thing on our minds. But what if we told you that you can earn an income from exercising? This could be a small, motivating factor that helps you improve your health!
Furthermore, we want to be an application for people interested in Virtual fitness but unable to play with friends or join larger communities because they use different smartwatches or applications. WIRTUAL has come to solve this problem by creating a platform that can connect with all smartwatch models, giving you the opportunity to have fun and compete with friends while being part of your own community.
WIRTUAL aims to be a platform that brings fitness enthusiasts together, promoting the well-being of everyone.
WIRTUAL introduces a new way to mine $WIRTUAL Coins that is easy, low-cost, and accessible to everyone. It involves tracking your exercise activities, such as running, walking, swimming, cycling, dancing, and more, using Smartwatches that can connect with Fitbit, Garmin, Apple Health, Huawei, Map My Run, and Strava apps.
‍There are three ways to earn $WIRTUAL Coins: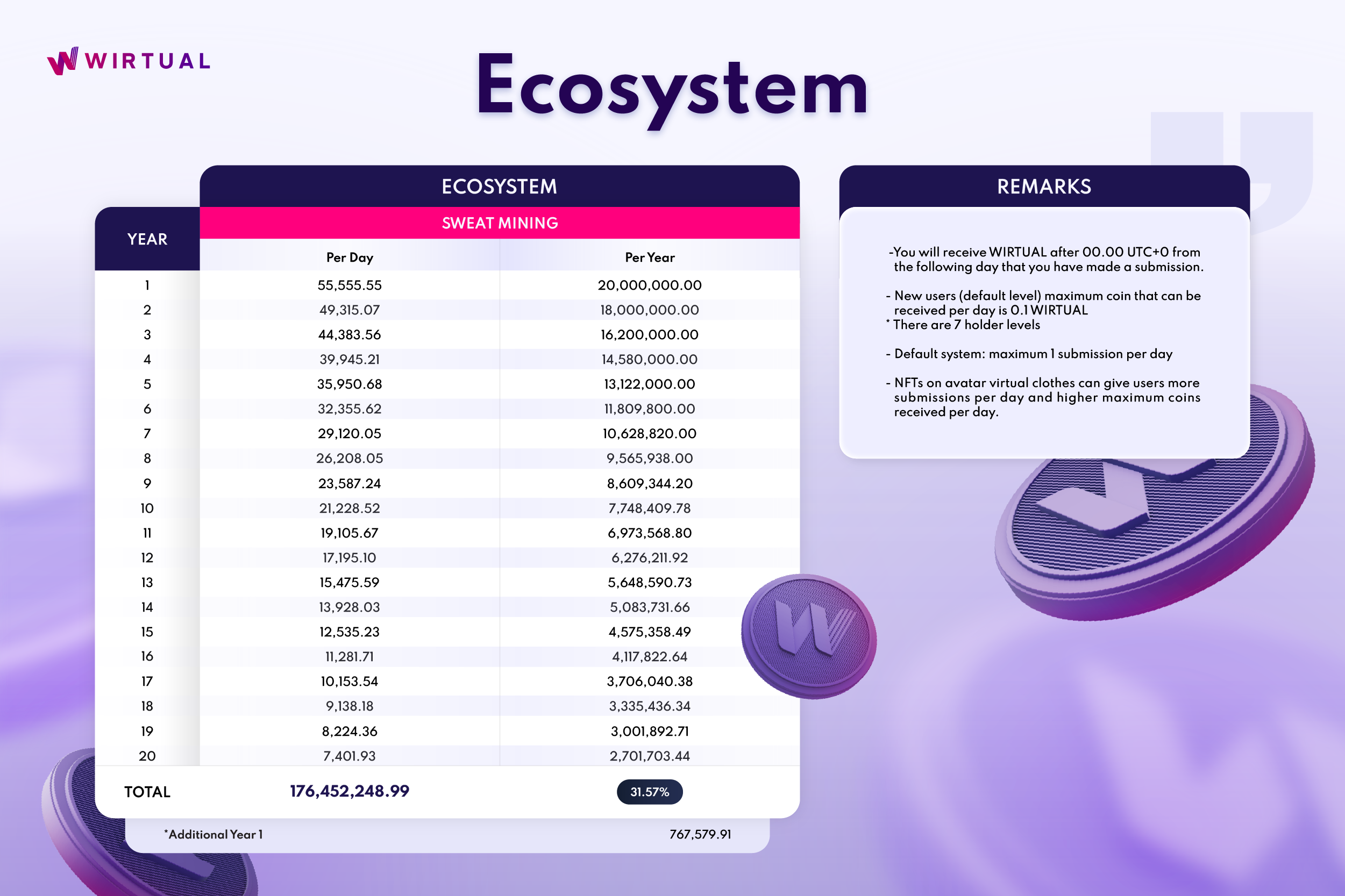 Join challenges that interest you, both free and paid ones.
Submit your exercise data from your devices and apps such as Fitbit, Garmin, Apple Health, Huawei Health Kit, Map My Run, and Strava. By doing so, you will receive $WIRTUAL Coins based on your exercise performance. *Note that cheating will result in immediate account suspension.
After successful submission, rankings will be established, and $WIRTUAL Coins will be distributed to your wallet after 07:00 (UTC+0) on the following day.
Reward Calculation for each category:
Example: Daily distribution of $WIRTUAL Coins for the first year is 55,555.55 $WIRTUAL Coins per day. *** If the total exercise submissions for that day do not reach 55,555.55 coins, = All participants will receive the full amount of $WIRTUAL Coins available for that day. *** If the total exercise submissions for that day exceed 55,555.55 coins, = The distribution will be based on the ranking of exercise performance, taking into account the total coins available for that day.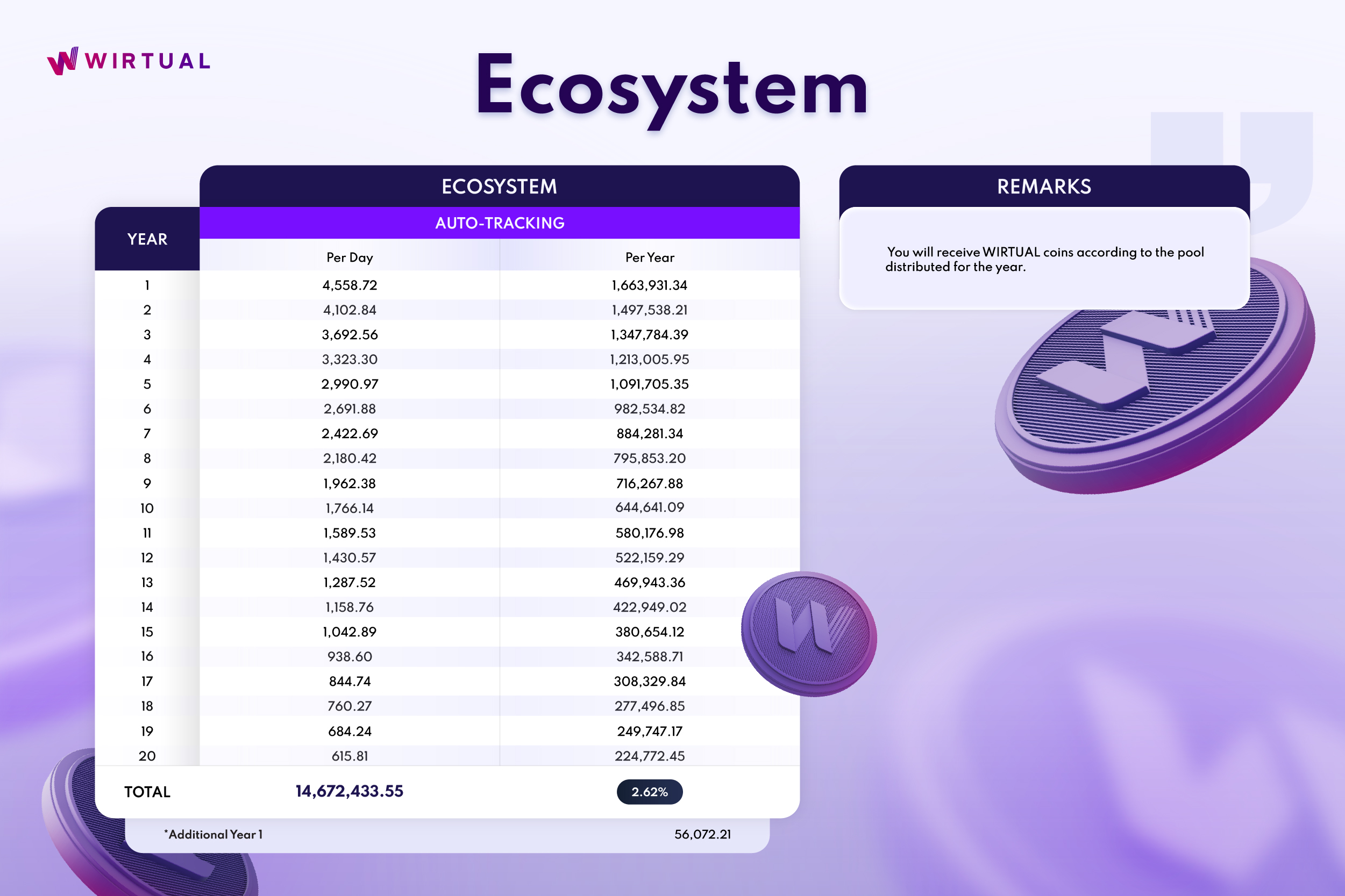 Reward Calculation for Auto-Tracking: The Auto-Tracking feature, which records your steps, will have a Pool for distributing $WIRTUAL Coins starting at 4,102.84 coins (in year 2), and it will decrease by 10% each year according to the initial schedule. *Note: $WIRTUAL Coins from Auto-Tracking steps will be credited to your wallet two days after the steps were taken, at 07:00 (UTC+7).
The number of participants walking each day affects the amount of coins distributed in this Pool. For example, if 4,102.84 $WIRTUAL Coins are distributed, and there are 1,500 participants, each participant will receive 2.73 coins.
The Sleep to Earn feature is under development. Please stay tuned for official announcements."
(Note: Some information may be specific to a particular platform or service and is subject to change based on updates or improvements.