New Tokenomics of $WIRTUAL
The total supply of $WIRTUAL is limited. Since day one, we've been committed to building real-world use cases for our coins. Our utmost goal is to seamlessly bridge the gap between real-world businesses and blockchain
With reference to the voting event that gives tokenholders authority to cast their votes on the token allocation proposal, 100% of the voters were in support of the reallocation of $WIRTUAL tokens. Thanks to all voters, we've now completed the reallocation of $WIRTUAL, dividing it into four categories: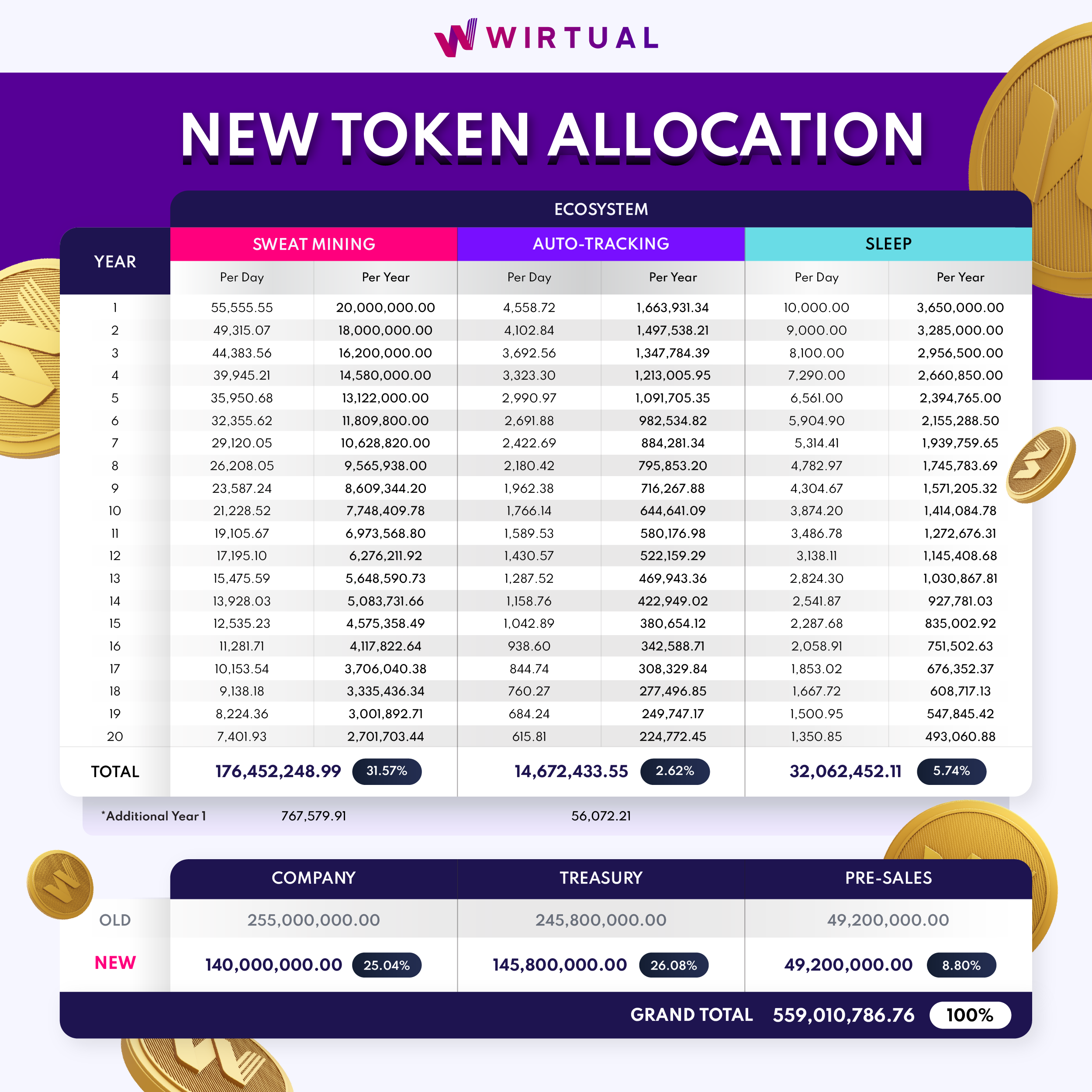 WIRTUAL is the platform that allows you to earn cryptocurrency by engaging in activities such as walking, running, biking, swimming, dancing, and working out. Every time you submit your activity results, you earn $WIRTUAL. The total amount of coins receivable is 224,010,766.76 $WIRTUAL or equivalent to 39.93% of the total supply. This allocation is divided into three parts:
Sweat Mining: 31.57% (176,452,248.99 $WIRTUAL) is allocated as a reward for sweat mining in Competition Mode. In year 1, daily distribution starts at 55,555.55 $WIRTUAL and decreases by 10% each year until year 20.

Auto-Track Steps: 2.62% (14,658,301.53 $WIRTUAL) is allocated as a reward for players in Easy Mode. Daily distribution starts at 4,558.72 $WIRTUAL in year 1 and decreases by 10% each year until year 20.

Sleep-to-Earn: 5.74% (32,062,452.11 $WIRTUAL) is allocated to users who take part in the Sleep-to-Earn feature. Daily distribution starts at 10,000 $WIRTUAL in year 1 and decreases by 10% each year until year 20.
**Additional Year 1 is the extra coins distributed in Year 1. This is because, by the time the token allocation was proposed and implemented (18 July 2023), a proportional amount of coins had already been distributed.
For your information, the token allocation is now in year 2;
Sweat Mining distributes 49,315.07 $WIRTUAL per day

Auto-Track Steps distributes 4,102.84 $WIRTUAL per day

Sleep-to-Earn Coming Soon!
We will bring the 10% of $WIRTUAL coins held in the Treasury and 10% of revenue received from selling Virtual Clothes on the platform for 20 years to continuously giveaway to the users. This model will take the platform to the next level, without the need to mine for more coins while at the same time allowing the value of existing coins to increase. We're committed to creating many more events that will take over the virtual world as a whole.
Our goal is to make our coins usable in both the real world and the Metaverse. We also want to simplify Blockchain technology and make it accessible to everyone. This enables you to – seamlessly take part in both physical sporting events and virtual events at the same time. Your data will be equipped to an Avatar and you will be able to receive rewards (revenue). WIRTUAL plans to pave the way into a future where our health is tied up with the digital world, where looking after your well-being and having fun can also be a source of income.
Our users can be reassured that by allocating a percentage of coins to the company, the company will grow sustainably in the future. We break down the allocation into 2 parts; 20% of the coins will be reserved for the company's valuation, meaning it will be kept as an asset and held in reserve (these coins are not meant to be spent). As the coins in reserve reflect the value of our company (much like a company's stock), we will be motivated to grow and increase its value. Our focus is for our coins to be compatible with real world uses, much like any other currency.
While the remaining 5.04 % will be kept for our team members and business partners for short term and long term growth. We will distribute $WIRTUAL over a number of years to encourage long term vision among our team and partners. We believe that long term success can be achieved through long-term reward planning.
$WIRTUAL are allocated for year 11 onwards for sweat mining, marketing and market. We view our business plan 20 years at a time, whereby we will be considering calculating rewards to distribute in year 21 and so on. Our users can rest assured that the platform is designed in such a way that no new coins have to be mined, meaning the number of coins will not increase which in turn protects against its dilution in value.
The remaining 8.80% will be allocated for pre-sales.
Why are we doing pre-sales?
1. Holders Level: the more $WIRTUAL a user holds, the more efficiently they can sweat mine as well as unlock additional features. For more info about Holders Level, click HERE
2. Scale Team & Marketing: Hitting the global market will be a major challenge for us. It is a task that we do not underestimate, and therefore we are sourcing initial funds to implement the strategy we have created.
Burning Mechanic of $WIRTUAL
Our Coins burning mechanic is very transparent and is divided into two parts:
1. Revenue from selling Epic Gachapon Tickets
The more tickets you buy, the more coins we burn. Here's how the revenue from Epic Gachapon sales in the WIRTUAL Brand Store goes:
40% of the revenue will be burned until we reach a total of 300 million burned coins.

30% of the revenue will go into the Treasury pool.

The remaining 30% of the revenue will be returned to the reward pool for daily distribution.
By purchasing more Epic Gachapon Tickets, you not only contribute to burning more coins each quarter but also earn extra rewards from the pool.
"Buy Back to Burn'' is another mechanism we use. The profit from selling challenges or products (In fiat) will be used to buy back and burn $WIRTUAL.
1. 0x7df70f102300d8105480a99bee88d247a58fe85e : Ecosystem wallet
2. 0xd33c9fd5a3f95fedfecee2428cbc10dac55e8942 : Company wallet
3. 0x1405339afecc2eeb65c9a137e4cce711e7276379 : Treasury wallet
4. 0x7944552069ae439e63576625d2d35263db139998 : Presales wallet
5. 0xe9e78fC7972d190234C9Cfe8AE45491d713167CD : Wallet reserved for keeping a portion of the user's coins in the Internal Wallet to ensure the safety of our users.